The United Nations was established to maintain international peace and security, and the UN representatives face danger and conflict on a daily basis. When the welfare of others is part of your job description, the most important foundation for your duties, is communication.
Thilan Legierse is a communications specialist and business consultant, with years of experience working in post-war zones for the UN. As a specialist in international war crimes, Thilan has seen some of the worst breakdowns in communication in the world, and the consequences of conflict.
In today's episode of Be The Drop, Thilan recounts her journey in the UN, followed by her transition from public to private work. Thilan's insights into the business world are deeply connected to human nature, she shares how this has shaped her approach for dealing with communication breakdown, and building successful teams.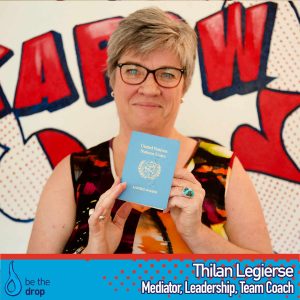 "Standing in front of mass graves was the beginning of my journey to discover that finding peace, starts within ourselves."
Listen now to the full episode:

In this episode on communication and the United Nations, you will learn:
Introduction to how the United Nations helps in areas of conflict and hostility
Challenges of moving from public to private work or entrepreneurship
How to approach a conversation where tension and hostility is present
A core basis and cause of hostility
How communication transcends specific words
Why fear is irrational, and how to think yourself out of fear
The qualities to look for and foster in leaders
How to unite and form a powerful team, even in the face of conflict
"My daughters tell me I have set the example to follow their dreams and crush through their fear and self limiting beliefs. I couldn't have wished for more."
Considering starting your own podcast? At Narrative Marketing, we deliver a full range of podcast production services. Or if you'd like help getting started to produce your own content, I also deliver podcast training programs.
If you've got any questions or feedback about this episode, I'd love to hear your comments! Want more? Join our FREE Facebook Group where we provide tools and resources to help you supercharge your digital storytelling content.
For subscription and channel details and links, scroll to the bottom.
Cheers!
Amelia xx
—
Want more? Join our FREE Facebook Group where we provide tools and resources to help you supercharge your digital storytelling content.
The Be The Drop podcast is brought to you by Narrative Marketing, the Brand Storytelling Superheroes!
We release new content each week!
SUBSCRIBE to Be The Drop podcast in iTunes here
SUBSCRIBE to Be The Drop in Spotify here
SUBSCRIBE on YouTube here for the full interview video, behind the scenes, bloopers & more.
CONNECT with us on Facebook, follow @be_the_drop on Instagram or Twitter.
CONTACT US podcast@narrativemarketing.com.au