When two podcasters come together to record a show within a show, things can get pretty interesting. Particularly when they're Be The Drop and The Adelaide Show. Having both participated in the Adelaide Podcast Festival back in March, it was only a matter of time before our shared love of hot cross buns and podcasting brought us together once more for this very special interview.
The Adelaide Show is a weekly podcast that was originally named Another Boring Thursday Night In Adelaide as a provocative challenge to people who label the city boring! Covering everything from science to business and sport, the common thread for the cohort of persistent listeners is that they "over-index with their engagement with the community at large," says Steve. Hyper-engagement is in their DNA; they're out and about at night, meeting people and hearing their stories. And it's this human contact element to which we kept returning throughout our interview.
In today's episode of BTD, Steve, Nigel and I get philosophical and creative. We talk about the modern technological world and what it means to be human, we explore connection by doing a spontaneous slam poetry jam (in our Facebook videos), and we delve into technology changes that provide audiences with the ability to curate the media they engage with…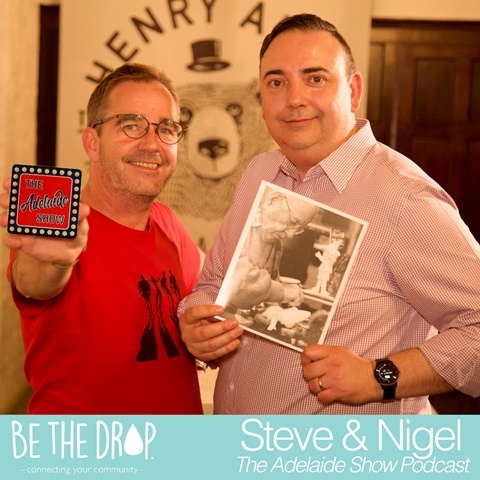 The world we live in.
How can we tell stories in a way that builds connection and reduces the isolation that comes with the use of devices, connection which builds that sense of community that has disappeared in recent times?
Nigel wrote an article called 'Pixelated Bliss: The Concerns of Parents Are Preventing Children Of Today From Expressing Creativity And Gaining Independence'. It explored parents' fears of the risks posed to their children in today's "outside world" and the part technology plays in suppressing the creativity, imagination and storytelling skill that comes with that old-fashioned human interaction. We're living our lives digitally and experiencing less human connection. But there is a hunger out there for the human element. BTD and The Adelaide Show (TAS) are both audio shows, but they're based around interviews in person; that important human element is brought to listeners via digital means. So, communicating in today's world becomes about how to look your audience in the eye, digitally.  
Humour plays a part in that, as does the visual element. For example, TAS incorporates into their content calendar of sharing links to episodes, and directly uploading videos, 'photoshopped' images of Nigel and Steve's heads on the bodies of other figures to make a particular point. "If we just do same old, same old, we're just wallpaper," says Steve.
Also using Twitter and Instagram as platforms, Steve talked about sharing inspirational quotes spoken by their guests, and using Facebook Live, particularly during the summer months when driving to interview a guest. "People are looking for the genuine and the authentic these days," says Nigel. And if it's unconventional, it gives people a reason to keep coming back. "We will never be replaced by robots!" cries Steve defiantly.
Head to our Facebook page for the slam poetry video! Listen to this episode here:
The selfishness of community.
"It wouldn't even matter to me if there were no community around it," says Steve, who began TAS back in 2013. It is a labour of love, born out of a personal passion for radio and exploring topics with someone he doesn't really know that well, "peeling back the layers". "It's intrinsically self-sustaining," he explains. His maternal grandfather was the same, only his great passion was making figurines out of timber in his shed. The joy he derived was from the action of doing it, not from any pleasure others took in it. That was his world and it didn't matter what anyone else thought.
This crucial bit of insight into the selfishness of community building is rarely admitted, but actually ties in perfectly to the notion of Be The Drop. After all, it requires an obsessive passion, a borderline selfishness, to be that first drop that goes forward with an idea, regardless of whether it will make you money, whether it offends people, or whether people will like it. In order to bring a community with you, you must have a single-minded focus and direction or else you become difficult to follow. As a waterfall comes from a single drop, so too you are on your own in the beginning.
The TAS community has risen from Steve's "selfish satisfaction" in editing and putting the episodes out there. Find that thing inside you that you can't not share, he says, and you'll have a bottomless pit of energy to fire you up.
He goes on: "Singers and songwriters don't do focus groups, they don't plan their audience, they have something inside that they have to get out… Some of us are so restless inside that we have to get something out. Maybe a crowd gathers. Over time, we get to see who makes up that crowd." Then you can find out what their interests and motivations are and it becomes a feedback loop.
If I'm really honest, what drives me to do the podcast is my own deep-seated passion for radio.
Real people get results.
Nigel and Steve find that their episodes are actually evergreen content; there are still listeners week on week for old episodes. Part of this continuous engagement is down to the guests who come onto the show. They're real people, and TAS is about getting into their minds. Those that have obsessive communities of their own, however niche, will push the figures through the roof. The show isn't about trends, celebrity or fads (unlike mainstream media), so there are no real peaks and troughs. People are overwhelmed by and sick of the media, says Steve, where you either have to be doing something illegal or amazing to get a shallow snippet of air time. With TAS, Nigel says, listeners get the intellectual reward of finding out about people that wouldn't actually end up on traditional mass-media. People are motivated and inspired to act because they're looking for something more. There are so many great stories out there – why aren't they being shared??
Thankfully, in 2017, we can pick and choose, curate and create our own media. We don't need traditional broadcast journalism with its "condescending approach" to delivering a "human interest" story that gets shoved in after the weather. "I don't believe mass media has much to offer this world," says Steve. "We can't be nostalgic for the future, we have to be ready to adapt; we're going to create our own media diet." And for this, we need visionaries like Steve and Nigel to show us what possibilities are open to us, what the media could look like, and how modern storytelling could be.
AS A THANK YOU FOR TUNING IN, HERE'S A FREE GIFT!
Ok, so you've read the blog and listened to the Be The Drop podcast, now it's time to take action! Let me ask you some questions:
Are you an awesome business professional?

Do you want to kick more business goals?

Want some free marketing resources?

Have you heard the fuss about LinkedIn but don't really know how to use the platform?
If you answered 'yes' to any or all of the above, it's time to invest just 20 minutes of your day in learning how to sell yourself online, maximise your networking, create more sales leads opportunities, nurture professional relationships and business growth.
Click the banner below to get started… Good luck in your noble mission to become a LinkedIn superhero!  
Thank you again for tuning in and listening to Be The Drop. I can't wait for the next installment to bring you more inspiring people talking about their strategies for connecting with and building a positive community. And if you want more behind the scenes silliness from recording the show, head over to our Facebook page, Instagram or Twitter.
Amelia xx
Be The Drop is brought to you by Narrative Marketing, the marketing consultancy that exists to help you unlock your storytelling superpower.
To access the weekly podcast episodes as they are released:
SUBSCRIBE to us in iTunes here (Android users can access through the free app 'Podcast Addict').
SUBSCRIBE to us in SoundCloud here.
To access the weekly podcast video as they are released – SUBSCRIBE to us in YouTube here.
PS: REMEMBER to follow us on Facebook, Instagram and Twitter.
CONTACT US at podcast@narrativemarketing.com.au.