As podcasting becomes a stronger and more widespread communication platform, I'm increasingly asked for my 'podcasting 101' tips to help make the medium work for businesses. This is something I have in common with my guests this week, who I met last year, through the Adelaide Podcast Festival.
As well as running this annual Festival, Liam Carter and Andy Martin co-Founded the Auscast Network, a network of podcasts that began on the back of their first podcast, also featuring Big Al, called The Badcast. Today, Auscast Network has 26 podcasts underneath its umbrella, with more in the pipeline.
In today's episode of Be The Drop, we discuss the future of podcasting and the advertising benefits businesses can tap into. Plus, Liam and Andy reveal their top tips for getting your podcast up and running…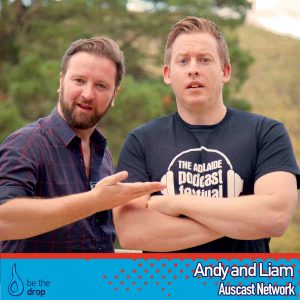 "Podcasting is to radio what Netflix is to TV."
Listen now to this episode to get the podcasting 101 from Liam & Andy:

In this episode you will learn:
The huge opportunities available within the audio medium
How advertising works + gets cut-through in podcasts
Examples of how podcasting is different to radio
Tactics for promoting your podcast
Tips for starting your own podcast
"Podcasting is people power. You select the podcast, you press play, you're in control."
I can't wait for the next installment of Be The Drop, to bring you more insights into the power of business storytelling. Everything we discussed in this podcasting 101 episode makes sense to me. But does it makes sense to you? I'd love to hear your comments! 
For subscription and channel details and links, scroll to the bottom.
Cheers!
Amelia xx
The Be The Drop podcast is brought to you by Narrative Marketing, the Brand Storytelling Superheroes!
Want more storytelling tips and tricks, or how to's to help you do your job? We release new content each week!
SUBSCRIBE to the blog here or by using the 'storytelling superpowers' form on the right.
SUBSCRIBE to Be The Drop podcast in iTunes here
SUBSCRIBE to Be The Drop podcast in Stitcher here
SUBSCRIBE to Be The Drop podcast in iHeartRadio here
SUBSCRIBE on YouTube here for the full interview video, behind the scenes, bloopers & more.
CONNECT with us on Facebook, follow @be_the_drop on Instagram or Twitter.
CONTACT US podcast@narrativemarketing.com.au.