Understanding business publishing within content marketing is one of the most critical of marketing's key elements. "Marketing" in the digital world is really a function more than a role now, given the remit is so broad. Seeing one aspect of this function as a 'publishing capability' provides SMEs with a powerful tool to help then grow their business.
Leticia Mooney is a publisher and content specialist, and Queen Pixie at her business, Brutal Pixie. Leticia has published three books, written boundless blogs, and directed content departments for many businesses, giving her the expertise to train others, consult, and publish great content herself.
In today's episode of Be The Drop, we delve into the hearts and minds of audiences, exploring the practice of creating content, and discuss the many facets of marketing a digital world. Leticia explains her approach to content marketing, and the value of business publishing skills to SME's.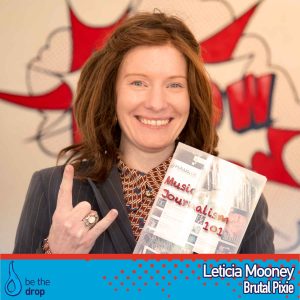 "Design your life. If you're waiting for a time in your life to live your best life; what are you doing today?!"
Listen now to the full episode:

In this episode on business publishing, you will learn:
How to relate to your target audience
Understanding the relationship between you and your audience
To embrace change and unconventional practice
The value of honesty and being the brand without "BS"
Owning your opinion, your brand can be honest without being offensive
Why business publishing is a broader term than you expect
How not to burn out, and work healthily on your own terms
What a healthy client relationship looks like in practice
"I can just switch off. People may not understand that because they don't have hobbies, or a life outside of work, and that is a dangerous place to be."
—-
Considering starting your own podcast? At Narrative Marketing, we deliver a full range of podcast production services. Or if you'd like help getting started to produce your own content, I also deliver podcast training programs.
If you've got any questions or feedback about this episode, I'd love to hear your comments! Want more? Join our FREE Facebook Group where we provide tools and resources to help you supercharge your digital storytelling content.
For subscription and channel details and links, scroll to the bottom.
Cheers!
Amelia xx
—
Want more? Join our FREE Facebook Group where we provide tools and resources to help you supercharge your digital storytelling content.
The Be The Drop podcast is brought to you by Narrative Marketing, the Brand Storytelling Superheroes!
We release new content each week!
SUBSCRIBE to Be The Drop podcast in iTunes here
SUBSCRIBE to Be The Drop in Spotify here
SUBSCRIBE on YouTube here for the full interview video, behind the scenes, bloopers & more.
CONNECT with us on Facebook, follow @be_the_drop on Instagram or Twitter.
CONTACT US podcast@narrativemarketing.com.au