It's important in small business to get the right business advice. I can safely say that my guest this week, Luke Talbot-Male, can be counted on to give it!
Launching a surf school in Port Elliot in 2001 was Luke's way of mingling business with adventure. And what an adventure it has been! At one point, Luke managed 15 different brands and operations, including Heysen Trail walking tours, a team building activities company, a Kangaroo Island backpacker hostel, restaurant, cabin park, and kayak tours in Exmouth, WA!
So he has loads of experience building successful businesses; and has been in the top 20 fastest growing South Australian companies four years running.
In today's episode of Be The Drop, I chat to Luke about using different communication tactics for different audiences. He reveals how to successfully incorporate remote workers into your Aussie team and explains the importance of a Big Hairy Audacious Goal…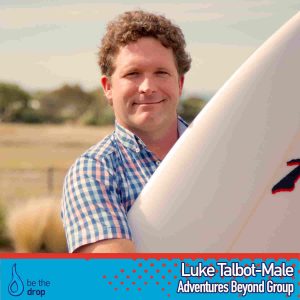 "Our brands are different veneers for our business, attracting different customers."
Listen now to this episode to absorb Luke's top business advice:

In this episode you will learn:
What to include in your sales playbook
About Luke's business communications plans
Tips on writing for different personas (use this buyer persona tool to nut out yours!)
Which communications tactics work for what audiences
The importance of regular internal comms to Luke's businesses
To explore these topics in more detail, join our Storytelling Superheroes Facebook Group where you can ask the team at Narrative Marketing any questions you have.
"My business advice? Focus. When you chase too many rabbits, you don't catch any."
I can't wait for the next installment of Be The Drop, to bring you more insights into the power of business storytelling. Everything in this episode makes sense to me. But does it makes sense to you? I'd love to hear your comments! 

For subscription and channel details and links, scroll to the bottom.
Cheers!
Amelia xx
The Be The Drop podcast is brought to you by Narrative Marketing, the Brand Storytelling Superheroes!
Want more business advice and brand storytelling tricks, or how to's to help you do your job? We release new content each week!
SUBSCRIBE to the blog here or by using the 'storytelling superpowers' form on the right.
SUBSCRIBE to Be The Drop podcast in iTunes here
SUBSCRIBE to Be The Drop in Spotify here
SUBSCRIBE to Be The Drop podcast in Stitcher here
SUBSCRIBE to Be The Drop podcast in iHeartRadio here
SUBSCRIBE on YouTube here for the full interview video, behind the scenes, bloopers & more.
CONNECT with us on Facebook, follow @be_the_drop on Instagram or Twitter.
CONTACT US podcast@narrativemarketing.com.au.