Marketing isn't about products anymore, it's about storytelling. (If you don't believe us, read this blog post.) And we've found that storytelling quotes can provide a bit of inspiration when reviewing your marketing strategy.
Stories aren't just for playwrights, movie directors, and authors. These stroytelling quotes prove it's a powerful tool for leaders, business owners, marketers and sales people.
So, to inspire you in your quest to super-charge that bottom line, we've chosen some of our favourite storytelling quotes from leaders in the arts and business, to illustrate just how powerful stories are… Enjoy!
Claim your EXCLUSIVE DISCOUNT on our top storytelling services!
Our Top Storytelling Quotes
1.
"Like all kinds of storytelling, whether it's an ad, whether it's a doc, whether it's a book … a story speaks to you at a particular moment in time, it means something to you and then you express it."
Gurinder Chadha –  Movie Director
2.
"Storytelling is joke telling. It's knowing your punchline, your ending. It's knowing that everything you're saying from the first sentence to the last is leading to a singular goal. And ideally confirming some truth that deepens our understanding of who we are as human beings.
"The greatest story commandment: Make me care. Please, emotionally, intellectually, aesthetically, just make me care."
Andrew Stanton – Filmmaker

3.
"A great story is true. Not necessarily because it's factual, but because it's consistent and authentic.
"Consumers are too good at sniffing out inconsistencies for a marketer to get away with a story that's just slapped on."
Seth Godin – Marketer, Author, Speaker
Click to share this on Facebook!
4.
"In the modern world, impactful brand storytelling is about how to look your audience in the eye, digitally."
Amelia Veale, Narrative Marketing
5.
"Marketing is no longer about the stuff that you make, but about the stories you tell."
Seth Godin, Marketing Legend
6.
"Storytelling is the oldest form of education."
Terry Tempest Williams, Author
7.
"Storytelling is about connecting to other people and helping people to see what you see."
Michael Margolis, Narrative Strategist

Top Storytelling Quotes: Share On Facebook!
8.
"Storytelling is the most powerful way to put ideas into the world today."
Robert McKee, Creative Writing Instructor
9.
"If you don't feel it, you won't remember it."
Bob Dickman, Author & Executive Coach
10.
"Brands are built around stories. And stories of identity – who we are, where we've come from – are the most effective stories of all. This storytelling is a powerful way to bring brands to life."
Bill Dauphinais, Lucha Capital Management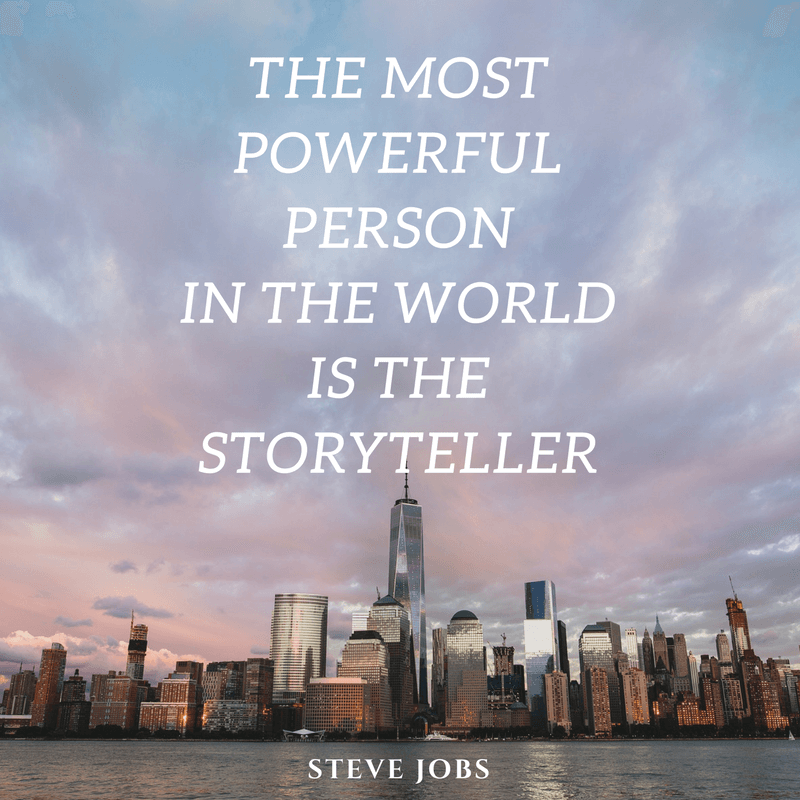 11.
"The most powerful person in the world is the storyteller. The storyteller sets the vision, values and agenda of an entire generation that is to come."
Steve Jobs, Apple (as if we had to tell you that)
12.
"Visual storytelling of some kind or another has been around since cavemen were drawing on the walls."
Frank Darabont, Film Director
13.
"Content builds relationships. Relationships are built on trust. Trust drives revenue."
Andrew Davis, Marketing Speaker & Author
14.
"Whatever you do and whatever story you're writing, make it human – make sure the human element is at the centre of it and shapes it."
Jacob Moss
15.
"Storytelling comes naturally to humans, but since we live in an unnatural world, we sometimes need a little help doing what we'd naturally do."
Dan Harmon, Writer & Producer
Thank you Dan for that ideal segway into telling you about the special offers we have this month to celebrate the third birthday of Narrative Marketing and one year of the Be The Drop podcast! Just click the links below to claim your offer(s). There's no obligation to buy right now!
Learn How To Win In The 2017 Marketing Landscape…
with our FREE, 1 hour, no obligation presentation at your workplace.
Understand your digital marketing weaknesses and opportunities…
with 20% OFF our Digital Communication Audit. 
Share awesome video content…
with our BUY 1 GET 1 FREE Video Shorts For Social.
We've just turned 3! Claim your BIRTHDAY PRESENT NOW!
Want more brand storytelling insights, and the inside scoop on best marketing strategies for small businesss? Join us for the Be The Drop podcast – every week, we release a new interview about impactful communication and modern business storytelling.
SUBSCRIBE to us in iTunes here  (Android users can access through the free app 'Podcast Addict').
SUBSCRIBE to us in SoundCloud here.
To access the weekly podcast video as they are released – SUBSCRIBE to us in YouTube here.
PS: REMEMBER to follow us on Facebook, Instagram  and Twitter.
CONTACT US at podcast@narrativemarketing.com.au.