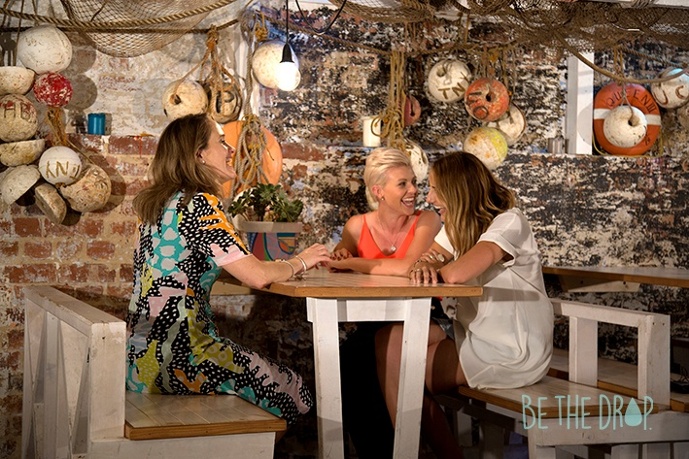 Welcome to the Be The Drop Podcast!
Through this podcast series, I will look to investigate ways in which successful communicators are sharing their brand narrative. I will explore how they go about creating genuine human connection. Through weekly interviews, I will share these learnings with you, by identifying key actions that these people take in order to foster engaged interactions.
My aim is that through this podcast, I will share meaningful and useful communication tips and the best marketing strategies for you to implement in your business. Together, it is my hope that we can create a waterfall of connected communication.

This podcast is a passion project of mine, created to uncover communication that connects, unites and generates action. The Be The Drop podcast investigates one of my core passions, what I call "collective consciousness" – which describes action driven by excellent communication. My definition of this ability is to embody #bethedrop which comes from my personal love of the quote a waterfall begins with one drop.
Social Media
Through the podcast interviews, I also specifically investigate how digital and social media is used in the process of genuine human connection by asking each guest what platforms they are using and which are the most successful for them.
Digital content and social media is something I am frequently asked about by my business clients. What I have learned is that there is no one answer, no magic bullet or an easy "one-size fits all". I put a range of questions about this to my guests, so that we can build a greater picture and learn about the different approaches to successful social media communication.
The line up for the first episodes of BTD include a not-for-profit CEO, an Olympian,
change makers in numerous industries, a reality TV
winner and social media influencer. To name a few.
Each and every guest has brought a different level of smarts and insights into creating communication that connects. There really is something for everyone…
Listen below to the introduction episode 0.1 which explains what the podcast is about and how I hope that you'll benefit from listening. The first guest interview, episode 1, is with the charasmatic and driven, Andre Eikmier Vino Mofo!
JULY 2017 UPDATE: After numerous interviews and podcast episodes, I have had a few "ah-ha" moments, which I share with you in my Be The Drop podcast update here.
Head over to iTunes or your favourite podcast app to listen. While you're there please subscribe or recommend us to someone you think will enjoy our podcast. Happy listening…
AS A THANK YOU FOR TUNING IN, HERE'S A FREE GIFT!
Ok, so you've read the blog and listened to the podcast, now it's time to take action! Let me ask you some questions:
Are you an awesome business professional?

Do you want to kick more business goals?

Want some free marketing resources?

Have you heard the fuss about LinkedIn but don't really know how to use the platform?
If you answered 'yes' to any or all of the above, it's time to invest just 20 minutes of your day in learning how to sell yourself online, maximise your networking, create more sales leads opportunities, nurture professional relationships and business growth.
Click the banner below to get started… Good luck in your noble mission to become a brand storytelling superhero!
Be The Drop is brought to you by Narrative Marketing, the marketing consultancy that exists to help you unlock your storytelling superpower.
Subscribe to hear more best marketing strategies for small business on our Be The Drop podcast – we release a new interview with a business professional each week!
SUBSCRIBE to us in iTunes here (Android users can access through the free app 'Podcast Addict').
SUBSCRIBE to us in SoundCloud here.
Get more free marketing resources on our video channel – SUBSCRIBE to us in YouTube here.
PS: REMEMBER to follow us on Facebook, Instagram and Twitter.
CONTACT US at podcast@narrativemarketing.com.au.